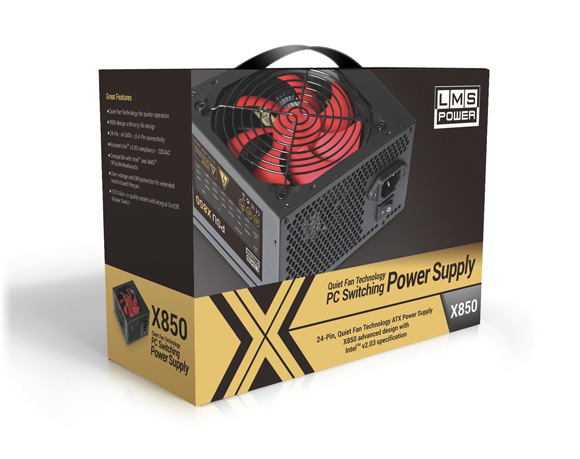 DESCRIPTION:

The new LMS Power Computer Power Supply (PSU) is the ideal product for all types of system builders and computer enthusiasts who build there own systems or for general IT requirements.

The X850 features proven Intel v2.03 compliance and 24-Pin design. Coupled with a variety of power features including SATA and standard 4-pin for legacy devices, as well as floppy - all in the standard ATX form factor.

Using high-quality components throughout manufacture assures a long service life together with 100% burn-in and HiPot testing to give you extra reassurance that the LMS Power X850 can go the distance for your Intel and AMD computing needs.

FEATURES:



Quiet Fan Technology for quieter operation


X850 design with long-life design


24-Pin : x4 SATA : x3 4-Pin connectivity


Assured Intel v2.03 compliance - 230VAC


Compatible with Intel and AMD CPUs/Motherboards


Over-voltage and EMI protection for extended motherboard lifespan


100% Burn-in quality tested with integral On/Off Rocker Switch

SPECIFICATIONS:



Type: ATX


Input voltage: 220V/230V


Fan: 12CM


24 Pin Interface: x 1


4 Pin 12V Interface: x 1


6 Pin PCI-e Interface: x 2


4 Pin Interface: x 3


SATA Interface: x 4


Floppy Interface: x 1